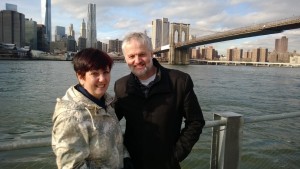 We are the Smiths. We live in Southwest Scotland, near Dumfries and we have five children, who are all quite grown up now. We love life and we love God – we believe that being a Christian means living in the knowledge that Jesus died in our place, to forgive us from all our faults and failings. That means we can get on with living life to the full, knowing that whatever we come across; He always has a way through.
Mark is Senior Pastor of the River of Life Church in Dumfries and, as a local Minister, also conducts weddings at Gretna, Comlongon, Dumfries and around the area (contact us for details). He's Chairman of Alive Christian Media Ltd., which runs Alive Radio, a community station in Dumfries, broadcasting on 107.3fm, and Chairman of Christian Care for the Homeless, as well as a board member of several community organisations.
Helen works alongside Mark as a Pastor at the River of Life Church and supervises Kings Coffee and Books. She's an inspirational woman and provides leadership and guidance to many people.